"All Scripture is breathed out by God and profitable for teaching, for reproof, for correction, and for training in righteousness,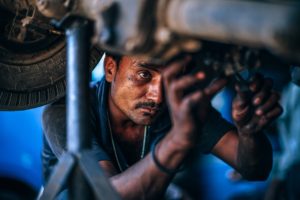 that the man of God may be complete, equipped for every good work." (2 Timothy 3:16, ESV)
"…equipped for every good work." If we have a job we work roughly 8 hours a day at that alone. Maybe more. Add the household tasks, errands, maybe a second job, volunteer hours, and on and on the list goes. Work is such a curse!
Or is it? What does God's word actually say about work and our attitude to work?
That's actually where we start – our attitude about work – our mindset. "We destroy arguments and every lofty opinion raised against the knowledge of God, and take every thought captive to obey Christ, being ready to punish every disobedience, when your obedience is complete. (2 Corinthians 10:5-6 ESV)
Lets hold on on that "punish" phrase for the time being. Notice that our battle is against thoughts, arguments, beliefs, and mindsets? Also please notice when we are to engage the erroneous mindset displayed in others – "when your obedience is complete."
My attitudes, about work or any other topic, are to be aimed at correcting my behavior for the glory of God, not at correcting someone else's behavior for the comfort or satisfaction of me.